Almost 15,000 square feet, this luxury estate is listed at just under $5.3 million.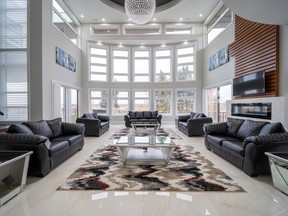 Reviews and recommendations are unbiased and products are independently selected. Postmedia may earn an affiliate commission from purchases made through links on this page.
Article content
Massive.
At nearly 15,000 square feet, this southwest property with amazing views is likely the largest home on Edmonton's resale market at this point.
Article content
And if you're wondering what such a property costs, or even looks like, here's your chance to find out — while the home is open to viewings, one needs to be qualified before they are allowed to visit the home.
The home, listed at just a hint under $5.3 million, is 9,280 square feet over two floors, but comes closer to the 15,000-square-foot mark once the finished basement enters the picture.
"We've had pretty good traffic at the beginning," said Ryan Debler, sales representative with Rimrock Real Estate. "Even now we still have a showing every few weeks. It's been really steady. We qualify anybody who comes into the house. We get a call every few days."
Located in the Banks at Keswick — previously known as the Banks at Hendriks Pointe — this recent custom build comes with six bedrooms (each with its own ensuite), and nine bathrooms overall. An elevator, meanwhile, goes to all four floors, which includes the expansive rooftop patio that covers almost the entire footprint of the home.
Article content
"Every single bedroom could be your primary suite," said Debler. "The actual primary suite's walk-in closet is bigger than some people's bedrooms." That primary suite, or at least a portion of it, was designed so that it floats off a rear portion of the house.
Further, one of the six bedrooms is on the house's main floor as Debler notes that this home was built with multi-generational living in mind.
The property also includes a soundproof home theatre designed to seat 20 to 25 people, a home gym and a lower level ballroom space — think an area the size of three living rooms. Then there's four living rooms overall, a kitchen, a spice kitchen and a full butler's kitchen.
Constructed in a modern style, the home takes full advantage of the views the lot offers: the North Saskatchewan River, the river valley and partial views of the nearby Windermere Golf and Country Club. All this is done via countless soaring windows, primarily, but not only, at the rear of the home.
"It's grand living with two-storey high windows," said Debler. "You get a beautiful sunset that fills all those windows."
Article content
Slow But Steady
At the $5 million level, a sale could possibly take some time.
"There are not that many buyers at this price point," said Debler, adding that this home has been on the market for quite some time. "It may take a year for the buyer to even see this house. It's better to commit to a price representing fair market value and wait for the buyers to come to it."
With the price at $5,299,900, Debler said this property has a number of things going for it above and beyond the modern finishings inside and the rooftop patio's setup for a future outdoor kitchen.
The location to initially build, in addition to its scenic setting, was chosen not only because the lot was large enough at one-half an acre, but because of its exclusivity of being in a gated community, which Debler noted is not that common in Edmonton.
Article content
"In Edmonton, there's only been three properties that sold for $5 million or more on the MLS," said Debler. "At this price point people move slowly but there are not many options. It could take a couple of years to transact.
"One (of those) sold in 2022, one in 2021, and prior to that it was seven years before that 2021 sale," said Debler. "The highest ever sale was in Windermere in 2014."
Growing Market
Even with fewer buyers in this multi-million range, Edmonton's luxury market is still growing, according to Debler, who notes that more luxury homes are being built every year.
"That market took a big uptick the first year of COVID-19 when (interest) rates were very low," said Debler. "That improved the top tier market quite a bit in 2022."
Article content
Then there are the buyers from British Columbia and Ontario. With expensive and competitive markets in those two provinces, those buyers are finding that they can get a lot more value for their money here, said Debler, adding that $1 million from there goes a lot further and provides them with a much bigger home here.
"We're seeing a lot buyers from across Canada," said Debler.
Million Dollar Listing
Construction on the home started in 2018 and was finished in 2019. The home has eight air conditioners based on its square footage. It's located at 3466 Keswick Blvd. S.W. in the Banks at Keswick. There are a total of 23 lots in the Banks at Keswick, with 20 of those inside the gates and three outside of the gates
link