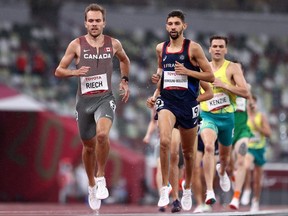 Article content
Nate Riech's financial situation isn't remarkable for a 28-year-old dealing with inflation and the high costs of housing. He works odd jobs to make a little extra money, and has done some driving with Uber to help pay the rent.
Article content
The unusual part is that he's a Paralympic champion. And a world record holder. He holds three of them, in fact, at three distances, making him one of the most accomplished Canadian runners on the international stage.
"I still have no sponsors," he says. Not even a shoe deal.
"I want to stay in the sport, but I almost had to quit this year because the financial situation wasn't ideal," Riech says.
Riech's story is a particularly stark example of the challenges that many Paralympians face, which, obviously, begin with a disability. Riech was 10 years old and playing golf when he was struck on his head by an errant shot, leaving him with a brain injury that impacts the function of the right side of his body. Born to an American father and Canadian mother who were both successful amateur athletes, Riech never gave up sport and ran track through school against able-bodied athletes. Later classified as a para athlete, he joined the Canadian national program and has won race after race: Gold medals in the 1500 metres at the 2019 world championships, the 2019 ParaPan-Am Games, and the 2020 Tokyo Paralympics, which took place a year later.
Article content
And not even a shoe deal.
Riech says when he started winning races and breaking records, he was told that the sponsors would come once he turned those performances into medal-winning races at events like the Worlds and Paralympics.
"Then I won them both, and nothing came from it," he says.
The financial struggles of amateur athletes aren't uncommon. Even at the Olympic level, every cycle brings stories of competitors who struggle to earn money while also training most days. Canada's medal-focused targeting funding has changed things dramatically for some of its most successful athletes, but for many others there is little beyond a monthly stipend for "carded" athletes of a little less than $2,000.
For younger athletes who live at home, it's a windfall, but for veterans who are thinking about a life after competition, it's a pittance.
Article content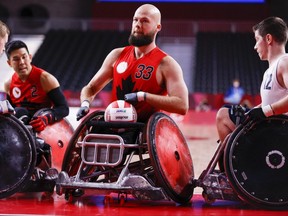 Zak Madell, 28, is a member of Canada's wheelchair rugby team who has competed in three Paralympics and is hoping for a fourth at Paris 2024.
"When you're 16 years old and you're getting carding cheques? That's pretty cushy in high school," he says. "My first cheque, I bought a TV and XBox. Now I've got to get groceries, and gas and insurance and rent, and after that I've got 12 bucks to get me through the rest of the month. It's not quite the same."
Madell is also seeking out sponsorships, knowing from experience that it is almost impossible to hold down a job while training and competing all over the world.
"You can't really get a new job and then say: 'Oh, by the way, can I have two weeks off every month?' " he says.
It's a pickle. A well-funded team will be able to travel more often to compete, and bring athletes together to train. Canada's women's sitting volleyball team finished in fourth place at Tokyo 2020, and an increase in funding since then has allowed it to have an improved training facility and a full-time coach. At last year's world championship, they finished second.
Article content
"The difference between our fourth-place finish in Tokyo and our second-place finish in Bosnia was maybe a lot (due to) funding, to be honest," says Danielle Ellis, a member of the team.
But that's also a bigger commitment for the athletes, and leaves little opportunity to earn to defray their expenses. As for building personal savings? Forget it.
Paralympians, meanwhile, don't get near the exposure of their Olympic counterparts, which makes it harder still to find those extra earning opportunities.
"The thing that upsets me the most is all these companies say they want to support para-athletes, and then they support one and they just check that box," Riech says. This month, he posted an image of a potential sponsor's rejection letter on his Twitter account and said he was encouraged by the number of people who responded and said corporate Canada should do more to help para-athletes.
Article content
In Riech's specific case, there is also the fact that, by appearances, he doesn't necessarily look the part of a Paralympian. There is no prosthetic, no wheelchair, no visible disability.
"This is not me guessing, this is what they have told me, my story isn't good enough," he says, which is a grim message.
Riech isn't running on metal blades, but he's just as much of a Paralympian, classified into a specific category and competing against other athletes with similar physical challenges. His might be an invisible disability, he says, but it's still there.
His story, that is, is one of dealing with a traumatic injury suffered in childhood, and persevering to become a champion as an adult.
"Sure it sucked, but I'm not going to complain," Riech says. "I'm going to attack it every day. That means more to me than dollars, but I can't stay in the sport if I can't afford to live."
Postmedia News
Ted Lasso is back. Will he lose his temper?

A frenzied NHL trade-deadline period gives way to another quiet deadline day
Check out our sports section for the latest news and analysis. Care for a wager? Head to our sports betting section for news and odds.
link