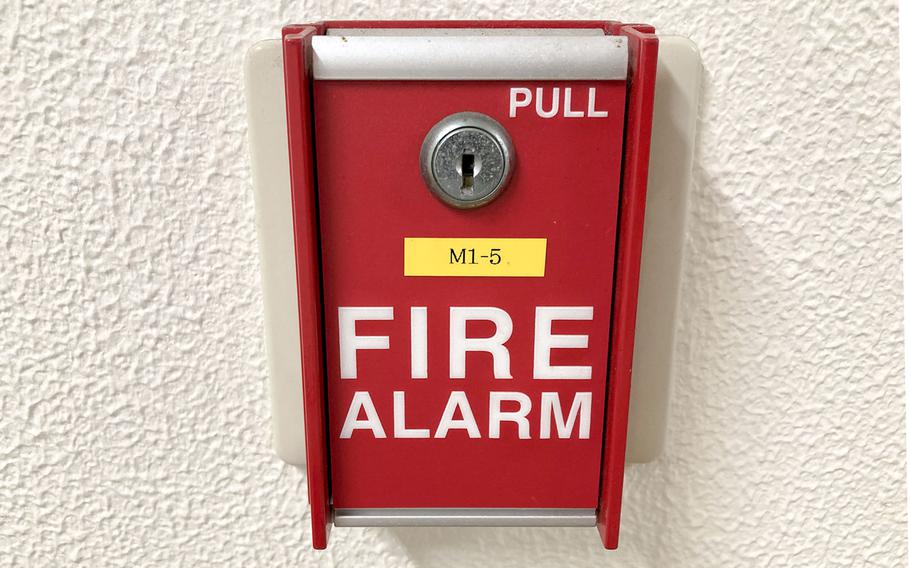 YOKOTA AIR BASE, Japan – A kitchen fire Monday evening in a residential tower at this airlift hub in western Tokyo flooded hallways and left residents wondering if the fire alarms worked.
The blaze broke out sometime after 5:15 p.m. on the seventh floor of building 3001, according to a tenant, caused no injuries and little damage but spurred concern on the Yokota Community Facebook page that the fire alarm system failed to alert anyone to the danger.
However, the alarm system worked as expected, according to the 374th Civil Engineer Squadron.
"We're still going to double check the operation, but the system is configured to notify selected adjacent spaces rather than ALL spaces," an unidentified squadron member wrote Monday evening on the Yokota Community page. "So this isn't abnormal."
The towers are built of reinforced concrete, according to the post. The fire rating on the tower columns and walls allows a long time for evacuation and limits the ability of any fire to spread.
The alarm system automatically alerted the base fire department, and the sprinkler system extinguished the fire, according to the civil engineer post. It was a response to a comment that the fire alarms may have malfunctioned.
The sprinklers "caused a lake on floors 6 and 7," the post said. "If you have any maintenance issues, please don't hesitate to call."
The base public affairs office, which acknowledged emailed requests from Stars and Stripes on Monday evening and Tuesday, said it could not provide information on the fire until Wednesday.
Sixth-floor resident Alyssa Martin, 30, of Chester, N.J., said she heard fire alarms, maybe on the seventh floor, going off around 6 p.m.
"I checked outside to see if it was coming from a different building and suddenly, we heard banging on our door and we opened it up and there were three firefighters asking if we had any flooding, which was a shock because we didn't realize there had even been a fire," she told Stars and Stripes on Tuesday.
Later, soaking wet firefighters let her know the seventh-floor fire was out. "We were very shocked, because we thought that means that our own fire alarm would go off, but it didn't," Martin said.
Water from the seventh floor cascaded onto the sixth, including storage units, Martin said, and into the building elevator, which was out of service Tuesday morning.
"The elevator relays may have been damaged by the water in the shaft, we're going to have the elevator maintenance contractor respond as soon as able," the civil engineer squadron member's post said. "Thank you for your patience. As a reminder, PLEASE, attend your cooking."
link