Take a walk through a random neighborhood in any major Japanese city and you'll more than likely see the signs: numerous buildings no more than a couple of decades old, construction and demolition work, and vacant plots ready to host brand-new homes.
Japan loves to build — in part a response to ever-evolving earthquake resilience regulations, but also the status that has traditionally come with building one's own home. But the tendency toward new construction — rather than the renovation of existing buildings — is coming under renewed scrutiny amid concerns over sustainability and the industry's contribution to climate change.
Ever since he was a college student in the 1980s and 1990s, Tsuyoshi Seike, now a professor at the University of Tokyo specializing in construction and its environmental impact, has been questioning Japan's "scrap-and-rebuild" culture in the housing industry.
Back then, when environmental concerns were not as high-profile as they are today, Seike simply wondered why the construction cycle of housing properties had to be so short when their frames and foundations were designed to last for a long time.
But such questions failed to gain traction for years, with consumers primarily demanding new houses, apartments and condominiums.
"Momentum for renovation did not really gain steam back then," Seike says.
Yet the tide seems to be turning, with the refurbishment of housing growing in popularity in the past several years as construction costs for brand-new residences have risen.
What's more, the government is also looking to promote the continued use of existing properties through renovation to curb carbon dioxide emissions: the scrap-and-rebuild cycle could produce nearly double the emissions of renovations, according to research that Seike was involved in.
A worker directing traffic in front of a construction site in the city of Fukushima on July 6.
| Bloomberg
That said, there is no clear data tracking the life-cycle emissions of Japan's construction industry, says an official at the Ministry of Land, Infrastructure, Transport and Tourism.
The amount of carbon dioxide emissions from actual construction work is small, with the use of construction machines at sites accounting for only 2% of overall industrial emissions in the fiscal year that began April 2020. But the scope of emissions from construction also encompasses the manufacturing of building materials, such as concrete and steel, and the transportation of necessary materials and items to the construction sites, as well as the waste from dismantling properties.
As such, the true impact of construction is likely big, and moves to curb the emissions by the industry are seen as essential — particularly in light of Japan's aim to achieve carbon neutrality by 2050.
But while the shift to more environmentally-friendly renovation is likely to play an important role, other approaches by industry players are also underway — including promoting a greater use of wood and creating new eco-friendly building materials.
Shifting from scrap-and-rebuild
Seike has been conducting research along with Sumitomo Realty & Development and Musashino University to calculate how much renovating houses can reduce carbon dioxide emissions compared with building new houses from scratch.
The findings, announced in June, revealed that renovating an entire house can cut as much as 47% of emissions during the construction process. The reduction varies depending on the scale of refurbishment, but when only the basic frame structure and foundation were maintained, the positive impact was maximized.
On the face of it, it's pretty obvious that renovation will produce less carbon dioxide emissions, since it involves recycling materials, such as steel or concrete, that produce emissions during the manufacturing process.
But actually nailing down the impact is quite challenging because it requires collecting data from past renovation works and visiting actual construction sites. That led Seike to team up with Sumitomo Realty & Development, which has been running a renovation business since 1996.
Now that data has been collected, Seike says he wants to create data standards that can be applied to different scales of housing refurbishment. This way, companies that provide such services can show how their renovation helps mitigate the environmental impact to their clients, who might take that factor into consideration.
"We knew it was pretty clear that our renovation business helps mitigate the environmental impact (compared with the scrap-and-rebuild approach) because we reduce scrap wood and waste materials by maintaining frame structures and foundations," Norio Sumitomo, senior manager in charge of investor relations and so-called environmental, social and governance (ESG) at Sumitomo Realty & Development. "But we could hardly provide a quantitative form of explanation."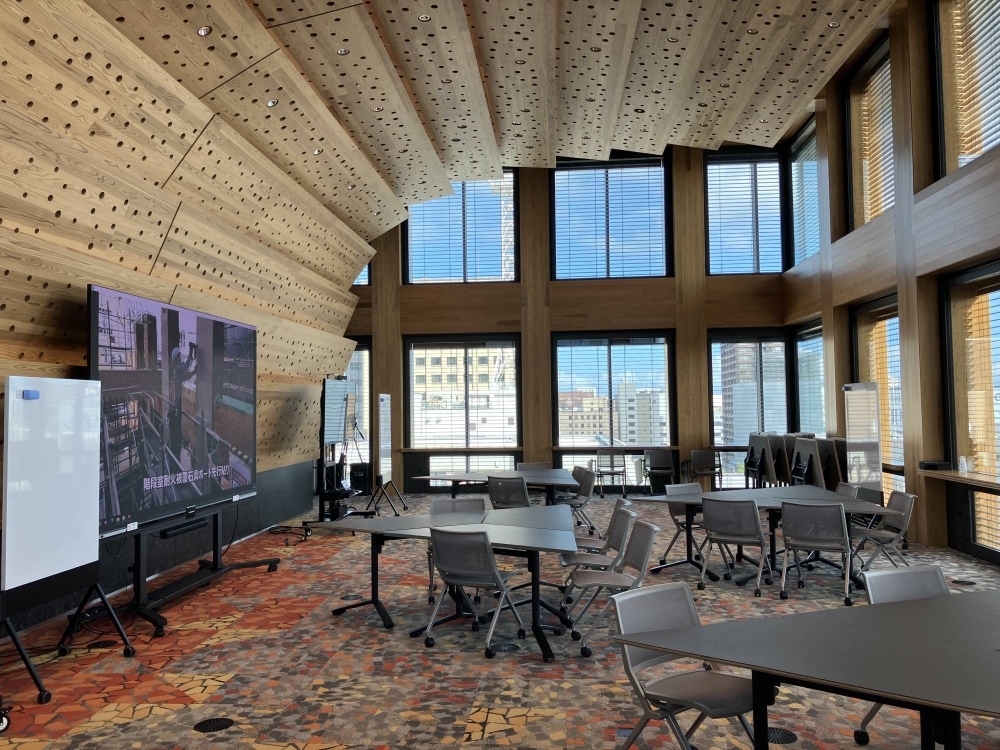 The Port Plus building in Yokohama, which builder Obayashi claims is Japan's first "fully" wooden high-rise construction, makes ample use of wood, with 90% of components made of the material.
| Kazuaki Nagata
The measurement of the environmental impact comes amid a change in the housing market, with consumers becoming less hesitant about choosing used properties in recent years.
Data from Zentakuren, a housing industry body, shows the number of deals closed for existing condos or apartments in the greater Tokyo metropolitan area was 39,812 in 2021, versus 33,636 for new ones, meaning used properties had come out on top for a sixth straight year.
One reason for the reversal is that the cost of building new houses and condos has climbed because of soaring material prices and labor shortages. More firms are also offering old housing properties after largely renovating them to make them look like nearly new residences, lowering psychological hurdles for consumers to choose used homes.
In addition, the number of empty houses has been on the rise due to the country's dwindling population, so it's likely that more efforts will be put into refurbishing aging housing properties.
Looming over these trends is the national target of reaching net zero: The government has set a challenging target of cutting household carbon emissions by 66% from the 2013 level by 2030. In fiscal 2021, such emissions accounted for about 15% of Japan's total.
To do that, improving the energy efficiency of residential housing is a must, as the thermal insulation performance of most existing houses does not meet the latest standards, Norio Sumitomo says.
"The government has been providing subsidies to renovate houses (to improve energy efficiency). If it increases subsidies, I think the need for renovation will increase," he says.
Material innovation
If shifting away from scrap-and-rebuild is one way of tackling construction's climate impact, then what can be done about the materials themselves?
When it comes to construction and greenhouse gas emissions, Seike points out that the use of steel and concrete is largely responsible for the full scope of emissions due to how those materials are made.
Indeed, the cement industry accounted for about 3.3% of Japan's total carbon dioxide emissions in 2019, while the steel industry produced about 14%.
Some major construction firms are tackling the issue by making more environmentally-friendly concrete.
Taisei, for instance, is producing cement-free concrete and uses blast furnace slag instead — a byproduct of steel production — to cut carbon dioxide emissions by as much as about 80%.
Kota Machida, CEO of Fabula, shows materials made of food waste in Tokyo earlier this month.
| Kazuaki Nagata
But while a number of firms are on a mission to produce and spread the use of new environmentally-friendly materials, Tokyo-based startup Fabula is aiming to kill two birds with one stone — it has come up with a technology to manufacture materials that can be even stronger than ordinary concrete by using various kinds of food waste.
Kota Machida, co-founder and CEO of the startup, studied at a University of Tokyo laboratory that was researching new materials that could possibly replace concrete.
"I was originally interested in solving the food waste issue, and my professor was saying that it would be unique if there were edible building materials," Machida says.
They did further research into the use of food waste and made some prototype materials, which turned out to be quite strong, with some being even stronger than concrete. In addition, the materials are technically edible, since nothing is added in the manufacturing process, which consists of drying food waste, crushing it into a powder and then heating and compressing it.
Some may wonder how food waste can be stronger than concrete, but Machida says the sugar contained in food works as a glue that holds fibers together when heated and compressed. He adds that the level of strength varies depending on the food, saying that Chinese cabbages are strong, while pumpkins are weaker.
On top of helping recycle food waste, Machida says his product doesn't emit as much carbon as ordinary concrete during the manufacturing process.
One major characteristic is that the materials can also have the colors and smells of the original food.
"Colors of (traditional) construction materials, such as stone, wood and concrete, are quite plain, so they need to be painted or pasted with films (for decorative purposes) … but there's no need to do so with these materials," Machida says.
Although the new materials can be made using existing machines, mass production will be challenging, as it will require the building out of a whole new supply chain.
Another hurdle is to clear legal standards for building materials, such as those on the three grades of incombustibility, and Fabula is still working on improving fire resistance, Machida says, adding that it will likely take two to three years to achieve second-grade incombustibility.
Returning to tradition
While some business players are looking to innovative environmentally-friendly building materials, there is emerging momentum around the use of a more familiar one — wood.
Wood absorbs carbon dioxide from the atmosphere and stores it during its decadeslong growing period. Yet its ability to absorb gets weaker as it ages, so creating a cycle of using old wood containing carbon — which would not be released until the timber is destroyed — and planting new trees can help with decarbonization.
About 70% of Japan is covered by greenery, and nearly 40% of that is planted forest. Since a lot of trees planted after World War II are available, the government is keen to see them used in construction projects in order to realize a sustainable forestry cycle.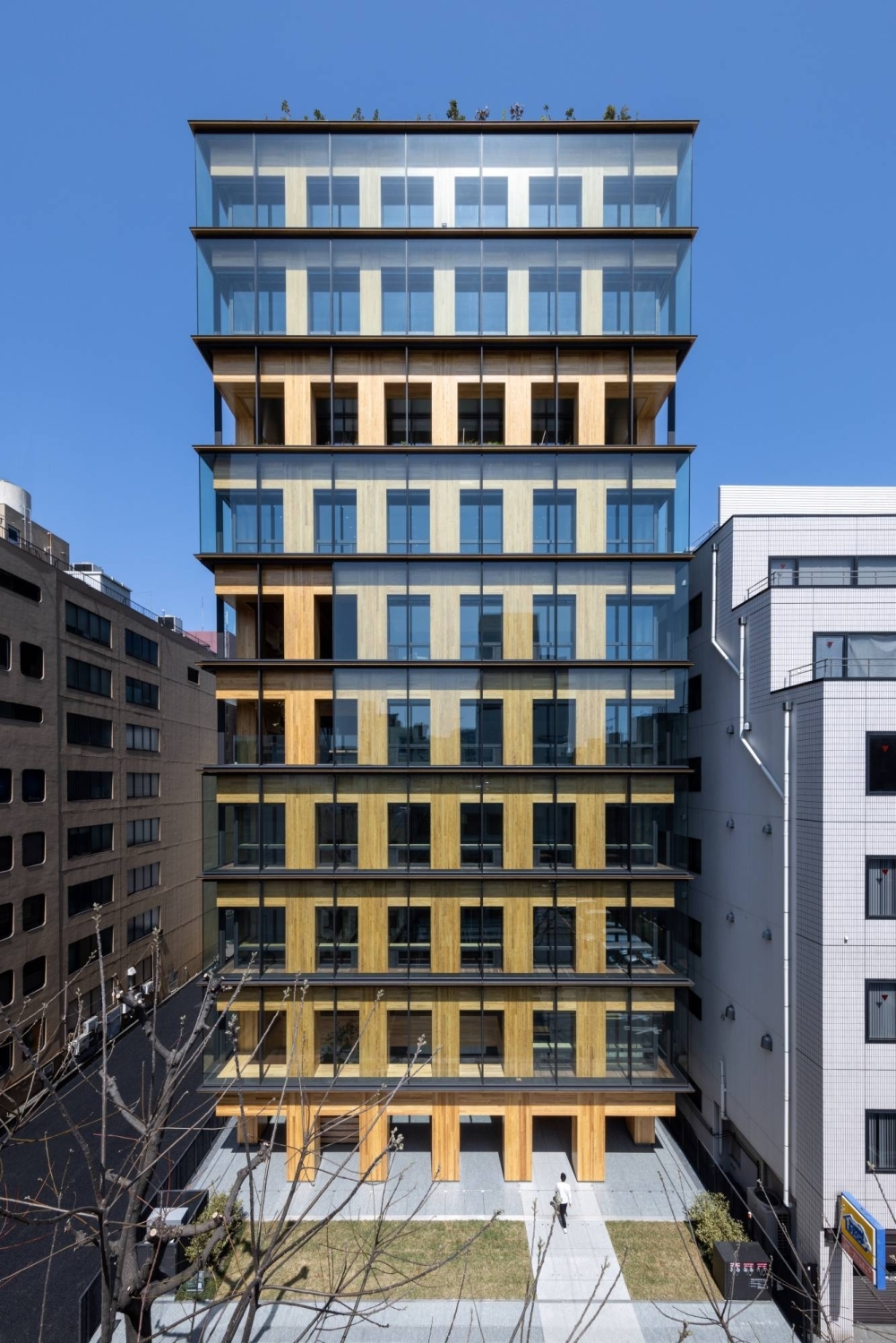 The Port Plus building in Yokohama. Obayashi estimates that the Port Plus building reduces life-cycle carbon dioxide emissions by about 1,700 tons — a 40% cut in comparison to a similar building built using steel.
| Courtesy of Obayashi Corp.
In 2021, the government amended a law that was originally intended to facilitate the use of wood for low-rise public buildings, with the scope widened to include private construction.
Government data shows that the proportion of low-rise housing properties made of wood is about 80%, but the figure is under 1% for properties with four stories or more.
An example of what such structures could look like can be found in Yokohama, where Obayashi, a Tokyo-based construction firm, built the 11-story Port Plus building in March last year — it claims the building is Japan's first "fully" wooden high-rise construction, with 90% of its components made of wood.
"As we have been thinking about what we should do for our sustainability vision for 2050 carbon neutrality, we've decided to promote the use of wood, which is a recyclable resource. That's how this Port Plus project was launched," says Shinji Yamasaki, chief engineer of the Timber Construction Promotion Department at Obayashi.
By using 1,990 cubic meters of wood, the firm estimates that the Port Plus building, a training facility for Obayashi employees, reduces life-cycle carbon dioxide emissions by about 1,700 tons — a 40% cut in comparison to a similar building built using steel.
On top of being able to absorb and store carbon, lumber is lighter than steel or concrete, so it generally requires less energy during the construction process, resulting in lower carbon dioxide emissions, Yamasaki says.
When dismantling a building, the lumber can be reused as a biomass fuel, he adds.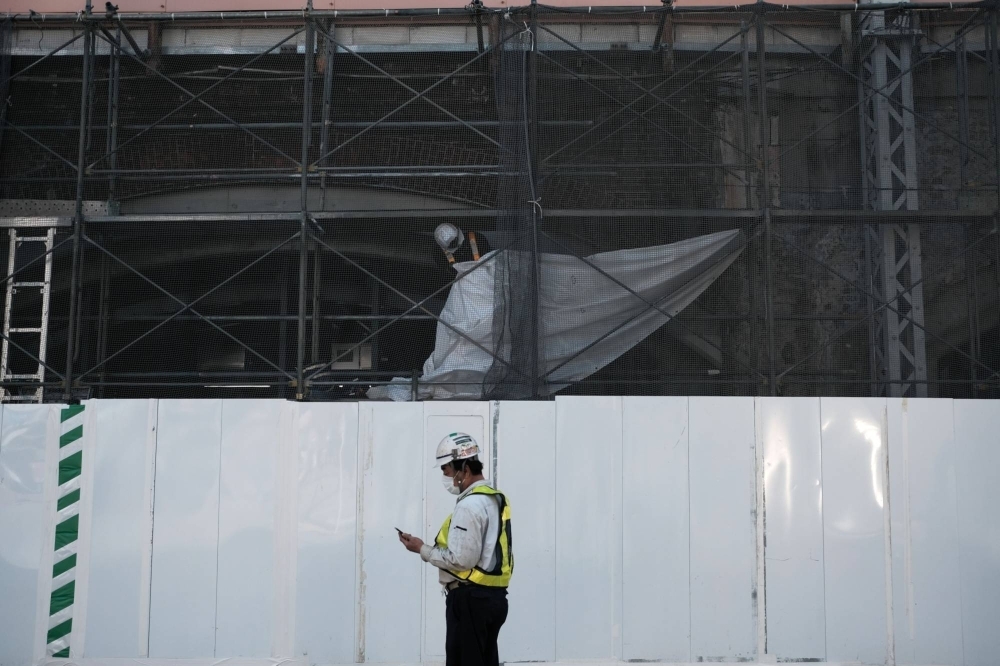 A worker looks at a smartphone in front of a construction site in the Shimbashi district in Tokyo in May 2020.
| Bloomberg
Given the government's policy, the industry is expecting more wooden building projects similar to Port Plus, but here, too, costs could present a road block.
Constructing high-rise wooden buildings requires wood with a lot of strength, but supplies are scarce as such trees usually grow in cold-weather regions, according to Yamasaki.
"It's not that we can procure such wood from everywhere in Japan," he says.
What's more, most lumber processing is geared toward houses, and there are not many factories that can process wood for high-rise construction, so the costs are higher, Yamasaki says.
Also, modifications are required to improve lumber's fire resistance, adding to the expense, because high levels of fire-resistance are necessary for buildings in busy urban areas.
Although the central government and municipalities are offering subsidies for wooden construction projects, they are still not enough to cover these costs, so the industry is undertaking initiatives to make them viable, Yamasaki says.
"Interest in wooden buildings is growing among clients, so they come to talk to us about various plans, but there are still hurdles, including the high costs, that prevent the momentum from growing further," he says.
However, Yamasaki says Obayashi will be further seeking ways to lower the costs, for instance, by introducing a hybrid style, which is a mix of wood and steel frames.
"We hope to promote various methods of wooden construction," Yamasaki says.
link