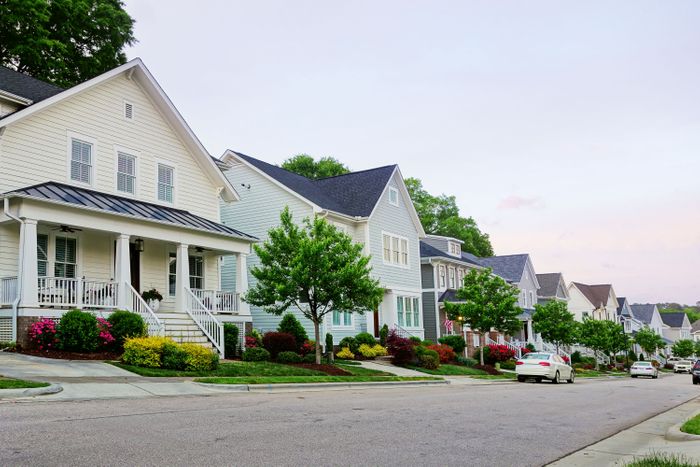 Photo: zimmytws/Getty Images/iStockphoto
Jay-Z, Will Smith, and other investors in the single-family rental market have been joined by Yamasa, a Japanese conglomerate. It's one of the many institutions buying up single-family homes around Raleigh, North Carolina, the News & Observer reports, and over the past four years has purchased 183 homes in several different neighborhoods, spending about $43 million. That's only a small proportion of the investor-owned single-family rentals in the area, which now total at least 40,000, but it shows just how popular the practice has become among many different types of financial operators.
In the past decade, private-equity firms like Blackstone have scooped up large numbers of multifamily properties, but in recent years the focus has shifted beyond those to what had, not long ago, been a market for first-time homebuyers. As of January, Blackstone had spent a total of $7 billion on Home Partners of America, a rent-to-own company. In December 2021, investor purchases accounted for more than one in five home sales in the U.S., according to The Wall Street Journal. (Unsurprisingly, there has been pushback: Some homeowners' associations are trying to limit the number of properties nonresidents buy in their neighborhoods, and Cincinnati bought an investor's rental portfolio so it could sell it back to local residents.) Still, from an investor's view, there is strong, durable demand for rentals in a historically tight housing market. In the Raleigh area, Yamasa collects about $1,863 a month for homes that it buys for, on average, $267,000. The company has been diversifying for a long time, according to the News & Observer, so single-family homes in the U.S. weren't such a stretch. It made its first home purchase in the area in 2018 and owns hundreds of homes in the Charlotte area as well as properties in Texas and Arizona.
However, renters told the paper they hadn't been aware that Yamasa was their landlord. They had rented the houses through Progress Residential, a big player in the single-family rental market, which manages Yamasa's investments in the area. As it turns out, Yamasa, or at least Progress, is a decent landlord. The tenants interviewed said they had completed the entire leasing process online and through apps. Several of them approvingly mentioned Progress's pet-friendly policies; unlike many landlords, the company doesn't discriminate based on breed and size. The only complaint was the standard one: that they would like to own rather than rent and were concerned that multinational companies and private-equity firms buying up the houses may make that harder.
Correction, May 3: An earlier version of this story repeated the News & Observer's erroneous reporting that Yamasa, the buyer of these homes, was a soy-sauce company rather than a similarly named corporation. We've revised the story in line with the N&O's update.
link