There are tulips, canals, wooden clogs, windmills, bicycles, and cheese. Only the mountains rising in the background seem out of place. Isn't Holland flat? Not in Huis ten Bosch — Japan's biggest theme park. Despite its Dutch look, it's probably the most "Japanese" theme park of all. 
Huis Ten Bosch is one of its kind. It's ambitious in scope, it looks surprisingly real, and it gives careful attention to details. But even more remarkably, it is a theme park for adults. Particularly for dating adults, at least in winter, when 13 million LED lights make for the biggest illumination in all of Japan. Despite the cold, happy couples are out in full force strolling along canals, taking pictures, and riding bikes in shared bliss. 
Do Dutch people know this place exists? Most don't, it seems. Several friends express their bafflement. "Are these real-size models? I'm very confused," writes a friend from Holland, after seeing photos of Huis ten Bosch taken from the top of the "Dom Tower of Utrecht." 
"Where is this place?" writes another Dutch friend while trying to guess the location from the photo. We can all agree: Finally, the best of Holland can fit into one picture frame.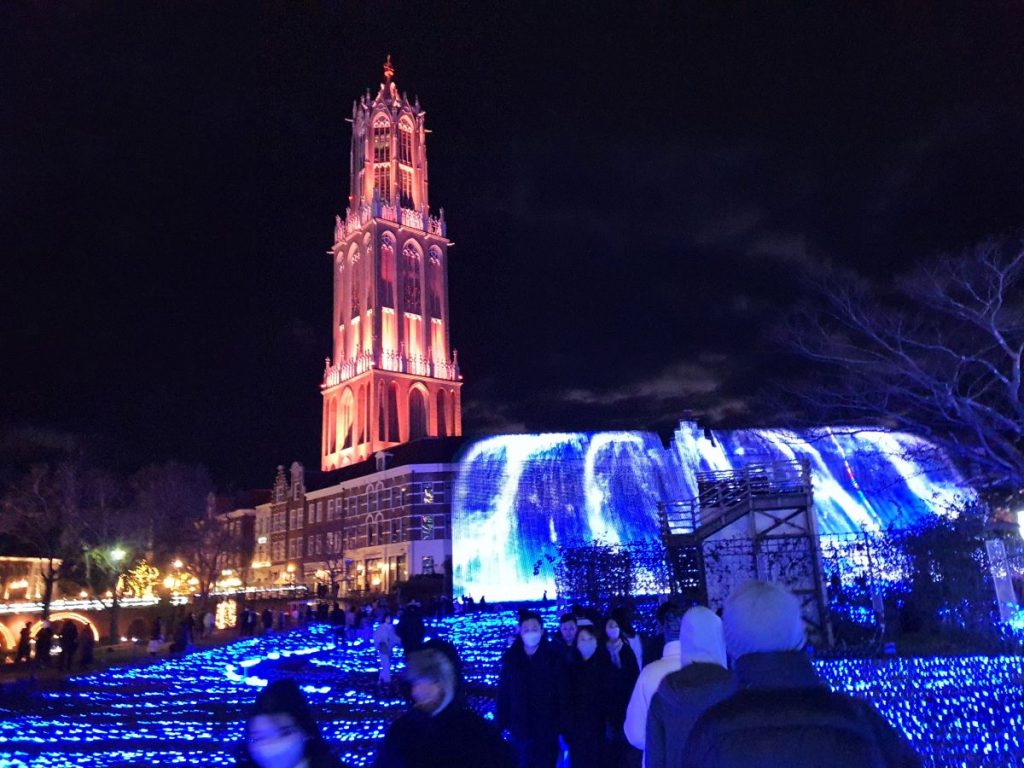 Welcome to Amsterdam Central Station in Huis ten Bosch
What makes Huis ten Bosch impressive is its sheer size. With 1.52 million square meters (about 1.6 million square feet) of land, it is about three times bigger than Tokyo Disneyland and only a bit smaller than the state of Monaco on the French Riviera. 
It is therefore no surprise that the park has its own train station, which looks like a Dutch red brick house. Visitors walking over a bridge from the JR train station toward the park are greeted by a large-than-life-size rendition of Amsterdam Central Station (or Amsterdam CS). It's a bizarre sight to behold, but at the same time, a show of opulence. 
The monumental building houses a five-star hotel, which, unlike Amsterdam CS, comes with a hot spring and other recreational amenities. From inside, there is a view of tulip fields that the original could never offer. After passing through the main entrance to the park, a model of Kinderdijk village awaits. It's known for its network of 18th-century windmills towering over waterways. Visitors can also enjoy a view of the famous flower gardens of Keukenhof.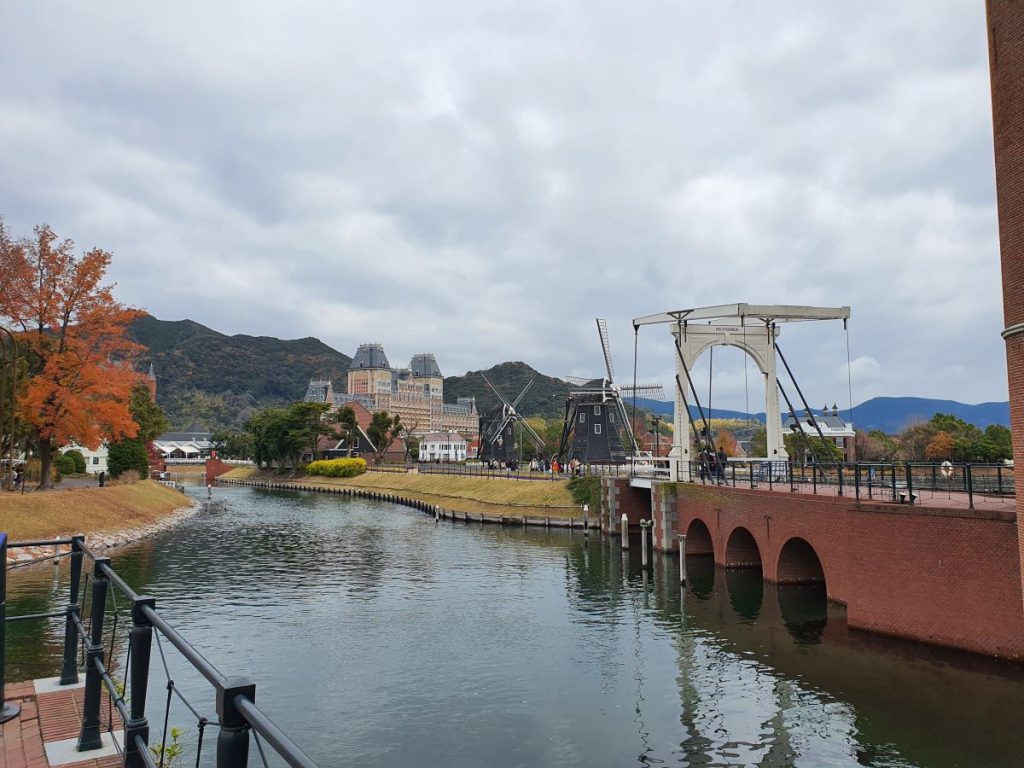 Drawbridges and Canals, but no Dutch Food
Further on, a drawbridge leads to a town square with a copy of the Waag, a 15th-century building with red brick and cone-shaped towers, which sits on Nieuwmarkt square in Amsterdam city more than 9,000 kilometers away.   
Here in Huis ten Bosch, boats chug along mellowly on the grachten (canals) of Utrecht and Leiden combined. The Dom Tower of Utrecht is just a couple of meters left to the city hall of Gouda. Round the corner, is Amsterdam's famous Hotel De L'Europe welcoming its guests. While the surrounding canals and buildings make it seems real, it is an Amsterdam where coffee shops sell coffee and bike theft is unknown. 
There are other notable differences. Huis ten Bosch stays away from Dutch food. Holland's condensed version offers neither bitterballen, stroopwafel, poffertjes, nor salty licorice. Instead, the park concentrates on European culinary classics like pizza, spaghetti, afternoon tea, and cheese fondue. Count on Japan to make Holland an even better place.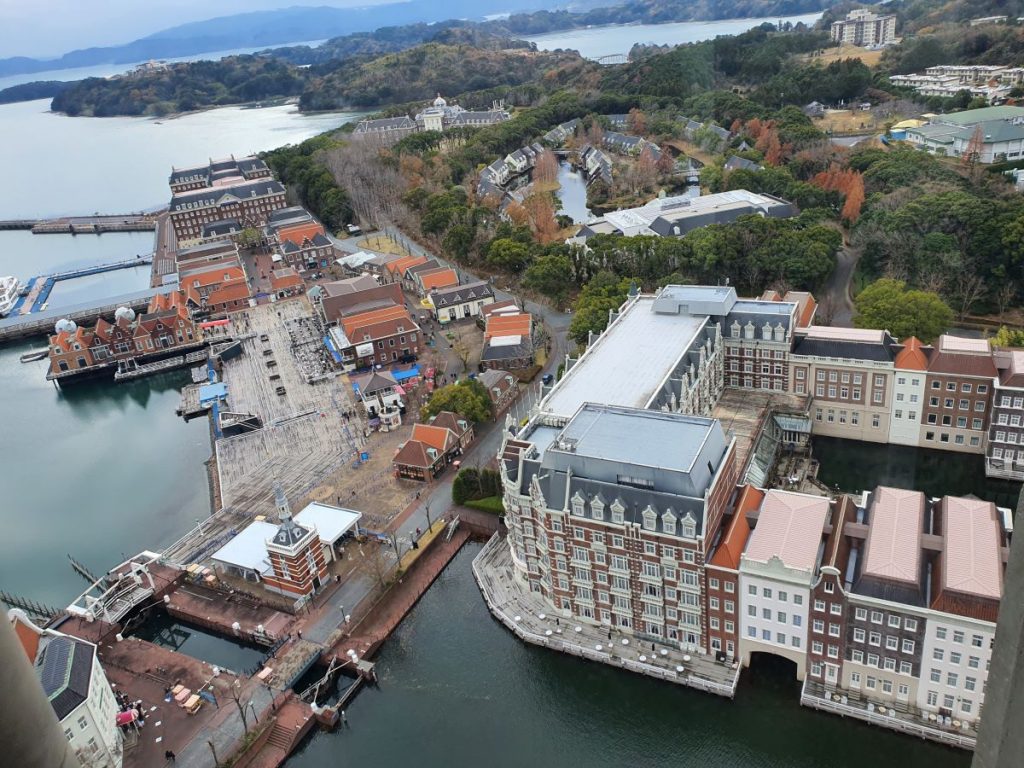 Huis ten Bosch High Ambitions
From the top of the Dom Tower of Utrecht, the park's aspiration is on full display. The Huis ten Bosch version stands at 105 meters (344 feet), only slightly shorter than the 14th-century tower of Utrecht, which at 112.5 meters (368 feet) is still the tallest church tower in the Netherlands today. 
The Dom Tower of Utrecht was built as a symbol of power. Apparently, Huis ten Bosch version had similar ambitions. When erected, it became the tallest building in Nagasaki prefecture and for now, remains its single tallest structure. The view from the tower over the park is spectacular. And, for the comfort of the visitors, unlike the original, the Japanese version has an elevator to ferry visitors to the top. 
Sometimes, at Huis ten Bosch the fake and the real touch. Last year, Utrecht shipped a stone ornament from the historic tower to its copy in Japan to celebrate the 700th anniversary of the original. This also coincided with the 30th anniversary of the theme park and the fake tower. The donation was "a birthday treat," according to Utrecht's Deputy Mayor Eelco Eerenberg.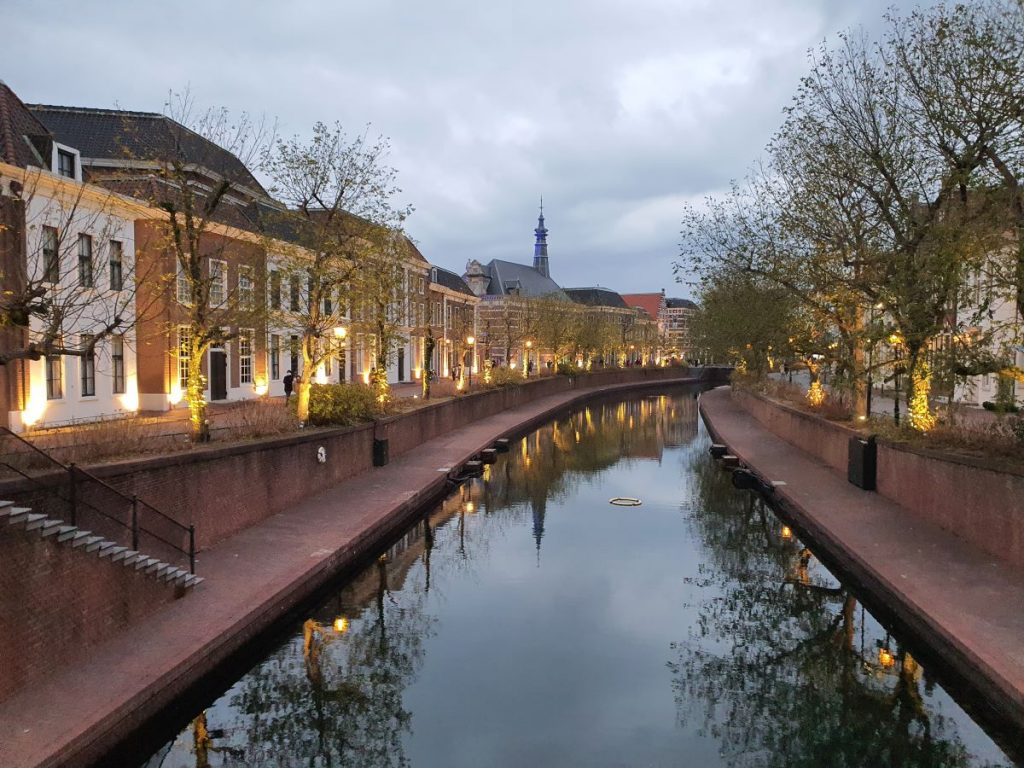 Hello, Miffy!
Apart from Dom Tower, Huis ten Bosch features another famous Utrecht export: Miffy. In its home country, the fictional rabbit goes by the name "Nintjee," a diminutive of konijntje, with means "little rabbit" in Dutch. The bunny has been a hit with Dutch toddlers and children for decades, but in Japan, Miffy speaks to all ages. There is no shame here in loving a cute character after leaving primary school. Miffy is perfectly acceptable for all age groups. 
At Huis ten Bosch, couples are wearing matching Miffy hats, matching Miffy headbands, and Miffy sweaters. They enjoy Miffy-themed drinks and food inside a Miffy-themed cafe. Every June, the park celebrates Miffy's birthday for the entire month with a Miffy flower clock, a Miffy show, Miffy drawing competitions, and a Miffy treasure hunt. There cannot be enough Miffy, at least not in Huis ten Bosch.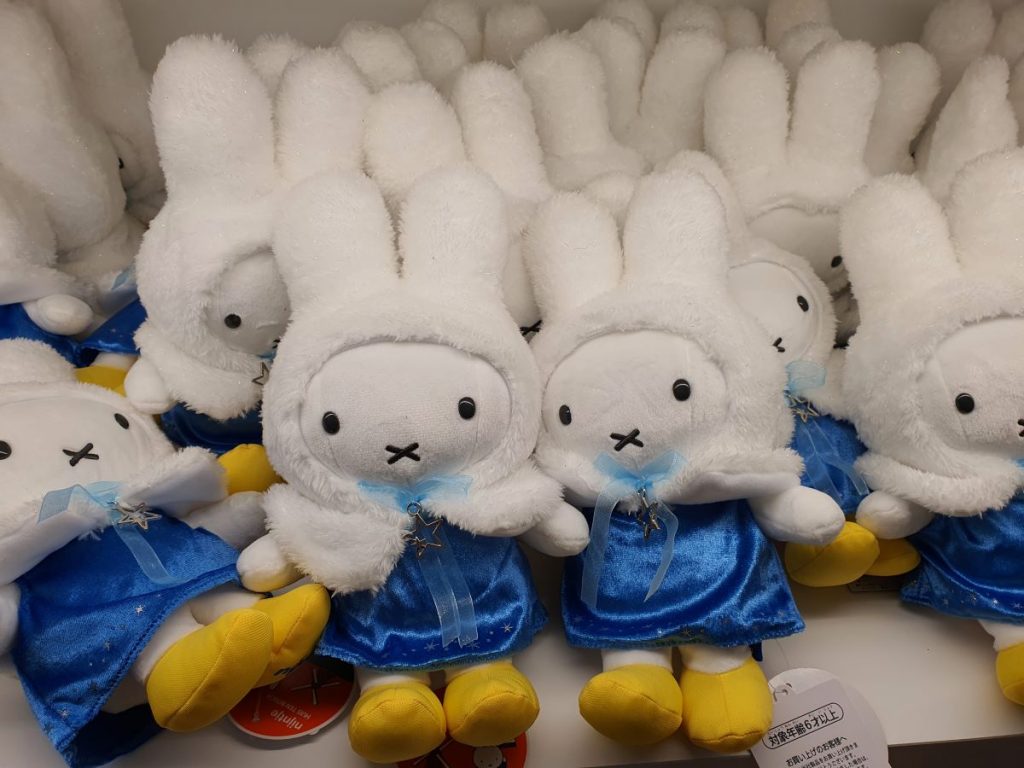 A Product of Japan's Bubble Era
Unlike Miffy who was "born" in 1955, Huis ten Bosch is a child of the bubble years in the 1980s, when Japan's real estate and stock market prices soared. The strong yen made Japan feel suddenly rich and ascendant. Between champagne and Chanel, a Dutch-themed park did not feel out of place. 
But the idea for the park was born years earlier, through the inspiration of Yoshikuni Kamichika, a town clerk in Seihi, which was a small fishing hamlet less than ten kilometers away from where the park is now.
Kamichika visited the Netherlands in 1979 and liked what he saw. He returned to Japan with a wish to build a Dutch-style park to attract tourists and generate income for the town. By 1983, Kamichika had managed to build a few houses, which were together called the "Nagasaki Holland Village." But he had a bigger vision.
In 1988, the mega-project started to the tune of $2 billion USD. The park took its name from Paleis Huis ten Bosch ("House in the Woods"), one of the four official residences of the Dutch monarchy. Needless to say, the park also has a copy of the palace. Apart from that, six kilometers (3.8 miles) of canals were dug, 400,000 trees planted, and countless buildings erected. Among them, 250 villas were modeled on the affluent town of Wassenaar near Den Haag.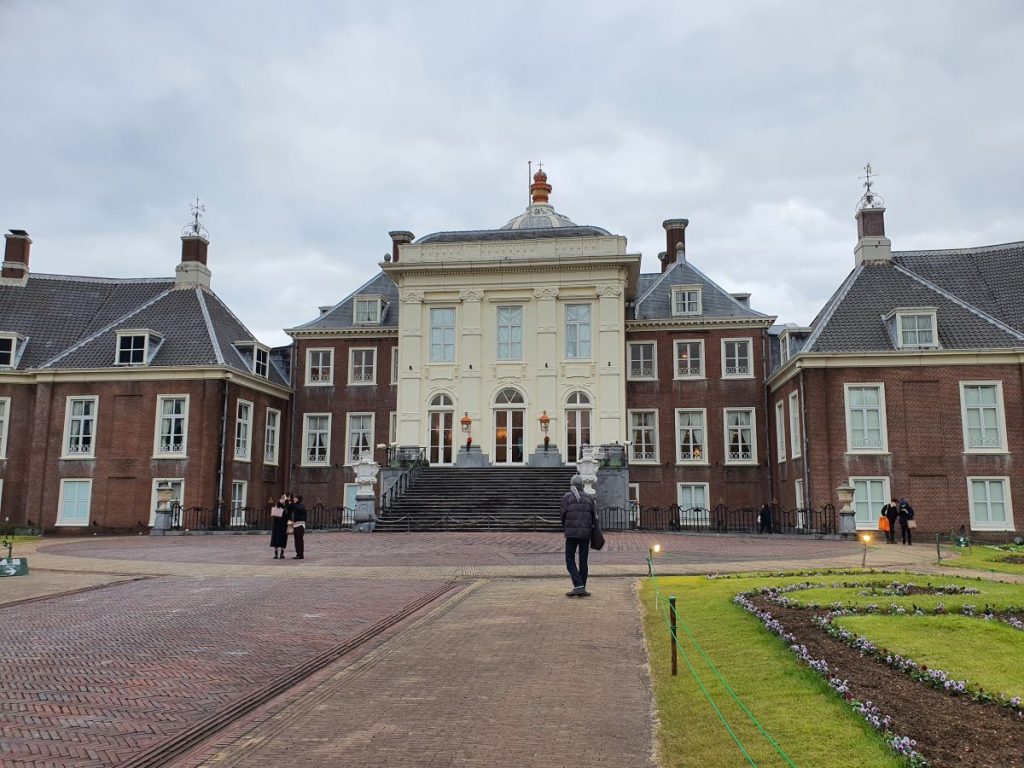 Changing Times in Huis ten Bosch
The construction of Huis ten Bosch took four years. But when the park opened in March 1992, the economic crisis had hit. The bubble years were over, and sobriety ruled. Still, the park managed to pull in three million visitors per year, but never enough to become profitable.
The park went bankrupt in 2003. Later that year, Nomura Principal Finance acquired Huis ten Bosch, then sold it off in February 2010 to the travel agency H.I.S. Huis ten Bosch remained a white elephant. The park was recently bought by Hong Kong-based private equity firm PAG, its first foreign owner, for approximately ¥100 billion JPY (about $770 million USD). The firm owned a share of Universal Studios in Osaka from 2013 to 2017. Reportedly, the amount paid by PAG was 18 times the 2019 operating profit of Huis ten Bosch. 
Into the Future
From the start, Huis ten Bosch had other ambitions than being a mere theme park. Its founder, Kamichika, who died in 2020, saw himself not only as a cultural ambassador for Japan and the Netherlands but an urbanist who plans a city of the future.
Drawing upon European models, he envisioned a new type of postindustrial urban development. "We wanted to create a theme park, but we also wanted to create a real city," he told the Los Angeles Times in 1993. Just like how Kyoto, Japan's most Japanese city, was modeled after the ancient Chinese capital Chang'an (now Xi'an), Kamichika hoped that Huis ten Bosch would grow into a unique Japanese city that combined leisure, pleasure, life, and work.
His concept is still visible today, but Huis ten Bosch's studied opulence coexists uneasily with amusement rides and other thrill entertainment. Its location is another problem. The park is not close to a mega metropolis like Universal Studios in Osaka or Tokyo Disneyland. It relies instead on a small marketing area. Even getting visitors from Fukuoka city, where the nearest international airport is located, is not easy. The 120-kilometer (75-mile) trip takes two hours. 
It is up to the new owner to find ways to draw in more visitors. Undoubtedly, the park stretching along Omura bay with its natural beauty of calm seas and green mountains is worth a visit. And of course, don't forget that Miffy is waiting. 
RELATED:
Author: Agnes Tandler 
Since the start of the pandemic in 2020, Agnes Tandler has been based in Japan, where her reporting covers COVID-19 for a daily healthcare newsletter in Germany. Read her other essays and reports for JAPAN Forward: Agnes Tandler.

link