International drug lord Christopher Kinahan Sr. was involved in an audacious bid to purchase a fleet of Egyptian military transport planes as he sought a safe haven and new bases close to drug-trafficking routes in Africa.
In 2020, a Dubai company linked to Kinahan, Sea Dream Middle East General Trading LLC, tried to purchase as many as nine used de Havilland Canada DHC-5 Buffalos from the Egyptian air force, according to documents obtained by Malawi's Platform for Investigative Journalism (PIJ) and the International Consortium of Investigative Journalists.
Hundreds of documents show Kinahan micromanaging elements of the deal, including setting up a website, and attempting to strike similar deals in Africa and Latin America. He explored buying an Antonov An-26 turboprop in Venezuela.
The documents are part of a cache of leaked material that includes remarkable photographs of the photo-wary crime boss. Key events and individuals revealed in the documents were verified independently by multiple sources.
Kinahan sought to buy the DHC-5 Buffalos, renowned for their short takeoff and landing capabilities,while posing as a humanitarian aviation consultant. He did so with the assistance of a woman who sources say is his long-term partner, and a group of associates using companies in Dubai, Singapore and Malawi.
The 65-year-old is the leader of one of Europe's most notorious gangs, a narcotics, money-laundering and arms-trafficking cartel with ties to Asia, Latin America and the Middle East, too. Dubbed the "Dapper Don," he holds Irish and U.K. passports, speaks with an Anglo-Irish accent and has lived in Spain and Belgium. He reportedly can converse in French, Dutch and Spanish.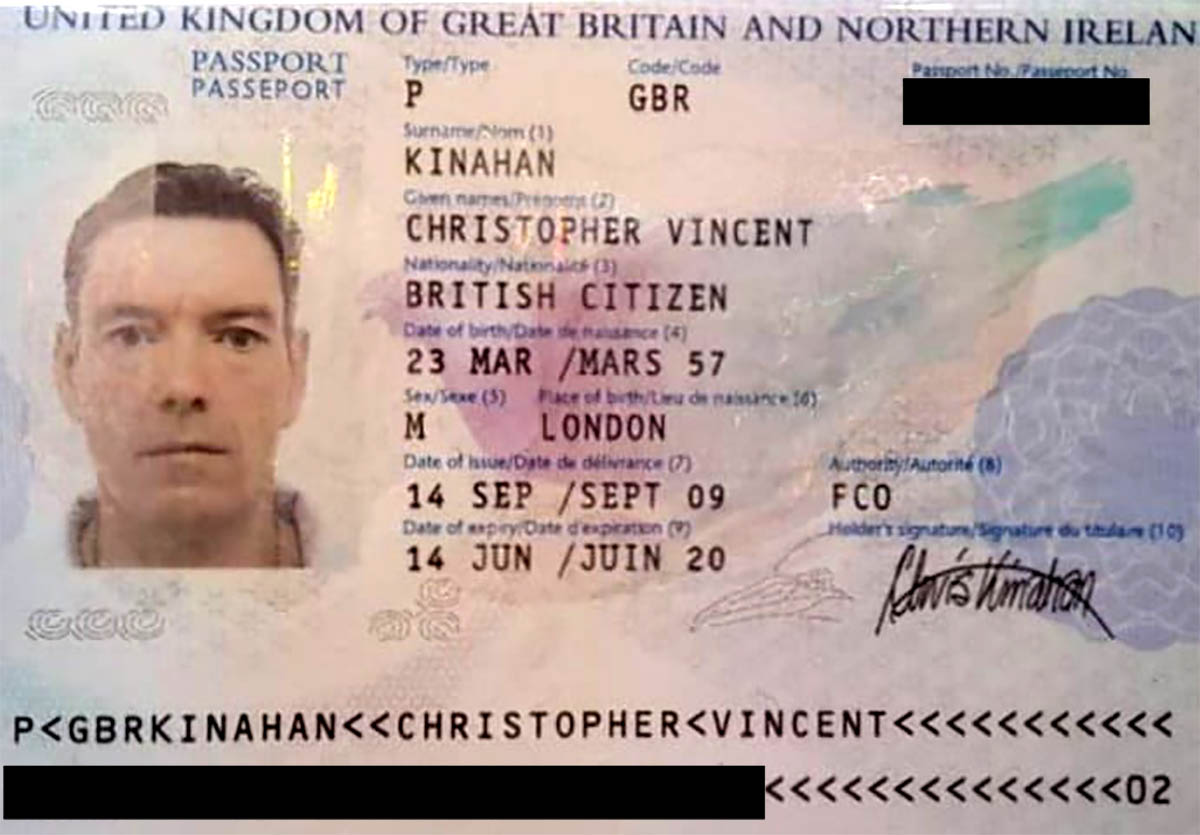 Kinahan, who according to the U.S. Treasury Department is based in Dubai,  has presented himself on websites and social media sites, including LinkedIn, as an aviation and business consultant called Christopher Vincent. Kinahan, whose middle name is Vincent, has used multiple business names that include the initials CV, such as CVK Investments, and a Twitter handle, @CVBizbroker.
He is a convicted heroin dealer, fraudster and money launderer. The United States has offered a $5 million reward for information leading to his arrest and/or conviction.
The fresh cache of Kinahan documents shines a light on the inner workings of a shadowy operation that apparently was intended to provide planes to a notorious crime boss so that he could more easily move drugs, money, people — or whatever else he desired — around Africa and the Middle East.
Interpol says Zimbabwe, Malawi, Mozambique and other African countries are used as transit countries by international drug smuggling criminals.
Sources detailed Kinahan's attempt to establish a hideout in Zimbabwe in recent years, at the same time as he was attempting to pull off a string of aviation deals. His connections to Zimbabwe are being reported here for the first time.
Leaked correspondence reveals how Kinahan oversaw the Egypt project while operating under his assumed name, Christopher Vincent. Taken together, the images and documents show the crime boss building international relationships with established humanitarian aviation partners as a cover for potential illicit activities.
The attempted purchase of planes from the Egyptian air force was one of several Kinahan efforts to buy old military aircraft in Africa. Sources said that Kinahan had various plans for the planes: to refurbish some to use in relief and tourism flights; to resell some whole or as parts; and to keep others.
At the time of the attempted Egyptian aircraft purchase, Kinahan faced passport fraud charges in Spain, where he was accused of using fake British and Irish travel documents. His name appeared frequently in news articles about a wide array of his alleged crimes.
A central player in the attempted deal was a Zimbabwean businessman named Adam Lincoln Woodington Wood. Wood appears with Kinahan in several photos in the cache of documents. In one, Kinahan, dressed casually in a light blue shirt and gray trousers, is grinning beside his then trusted business associate.
Adam Wood is tied to several companies that Kinahan used to try to facilitate the aircraft purchase and other deals. Along with Sea Dream, those companies are Dubai-based CV Aviation Consulting Services  DWC-LLC, Singapore-based Crescents and Crosses PTE Ltd. and Nyasa Air Charters Ltd.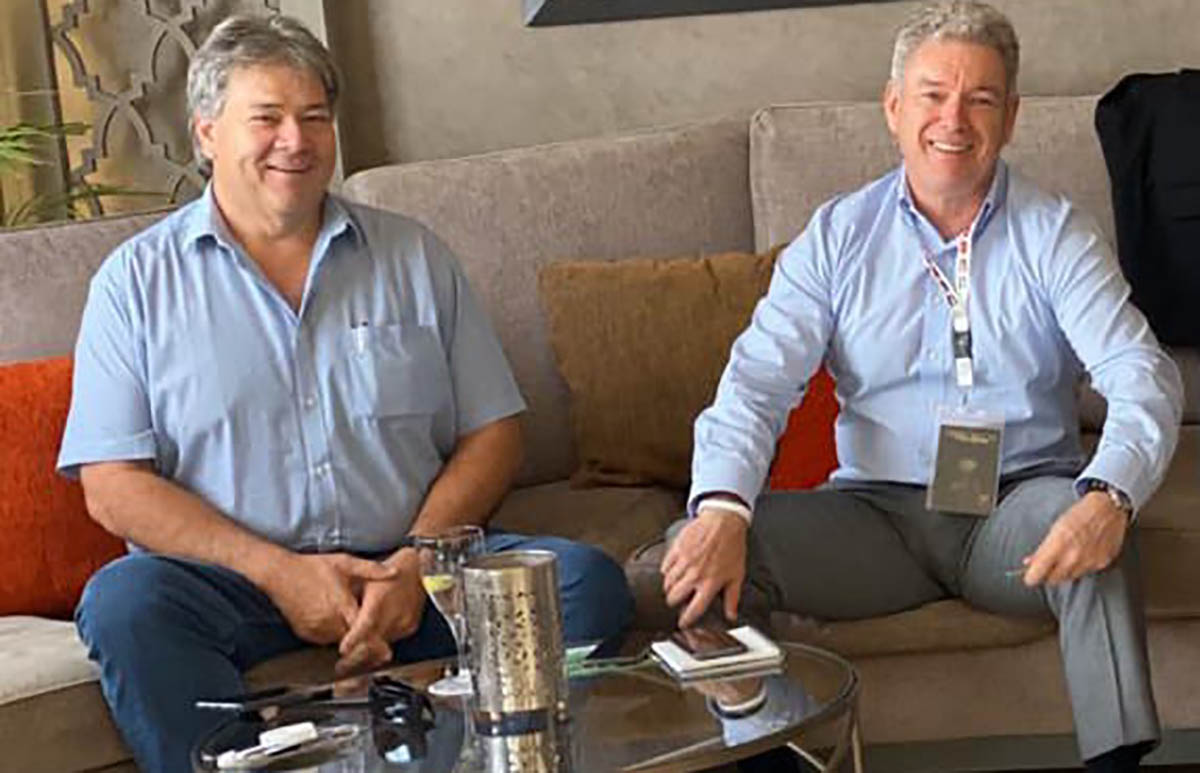 Crescents and Crosses, smoke and mirrors
PIJ was first approached with new Kinahan documents after the Malawi news organization reported on the Kinahans' link to Nyasa Air Charters Ltd., a tiny Malawi airline that was involved in humanitarian work and was registered in 2018.
Malawi Transport Minister Jacob Hara told PIJ that he pledged to investigate the findings of the links between Nyasa Air Charters and the Kinahan gang.
Emails show Kinahan pushing for the formation of Crescents and Crosses in Singapore so that it could negotiate the Egyptian deal under the pretense that Crescents and Crosses owned Nyasa and thus had a strong profile in Africa. Kinahan also pressed for Wood to run daily operations and for Sea Dream's managing director, Ibrahim Eldesouky, to control "the financial dealings" on the Egypt project.
In late 2019, Kinahan explained in an email that he wanted the Crescents and Crosses website to "create a smoke and mirrors illusion that we are bigger and better than a mere startup company," so that Crescents and Crosses would be "in pole position for aircraft finance and or leasing facilities." Crescents and Crosses was to be the holding company for the deal. Nyasa, which is understood to have had only one aircraft at the time, was to use the Egyptian aircraft.
A Zimbabwean exit plan
Kinahan also sought to establish a home and a business hub in Zimbabwe, but he was forced to abandon his plans after being denied permanent residency.  The Irish police, or Gardaí, confirmed to ICIJ partner The Irish Times that Kinahan had attempted to move to Zimbabwe and had established at least one business, in construction, there. Gardaí said that Kinahan had begun working on his Zimbabwe exit plan about five years ago and that they believe he last flew to Zimbabwe in March/April shortly before the U.S. imposed sanctions on him on April 12.
Adam Wood did not respond to requests for comment.
Sources said Kinahan flew frequently, over several years, back and forth between Dubai and Zimbabwe, where Wood is involved in aviation, property development and agriculture, including in a company that sought a medical marijuana license.
In photos shared with PIJ and ICIJ, Kinahan can be seen holding court in the comfortable surroundings of a hotel in Harare, Zimbabwe, called Amanzi Lodge. The photos, from September 2019, show Kinahan, Wood and Eldesouky with African and Iranian businesspeople at tables on a terrace after lunch.  The group occupied 14 rooms and spent four nights  at the hotel, a copy of the hotel reservation showed.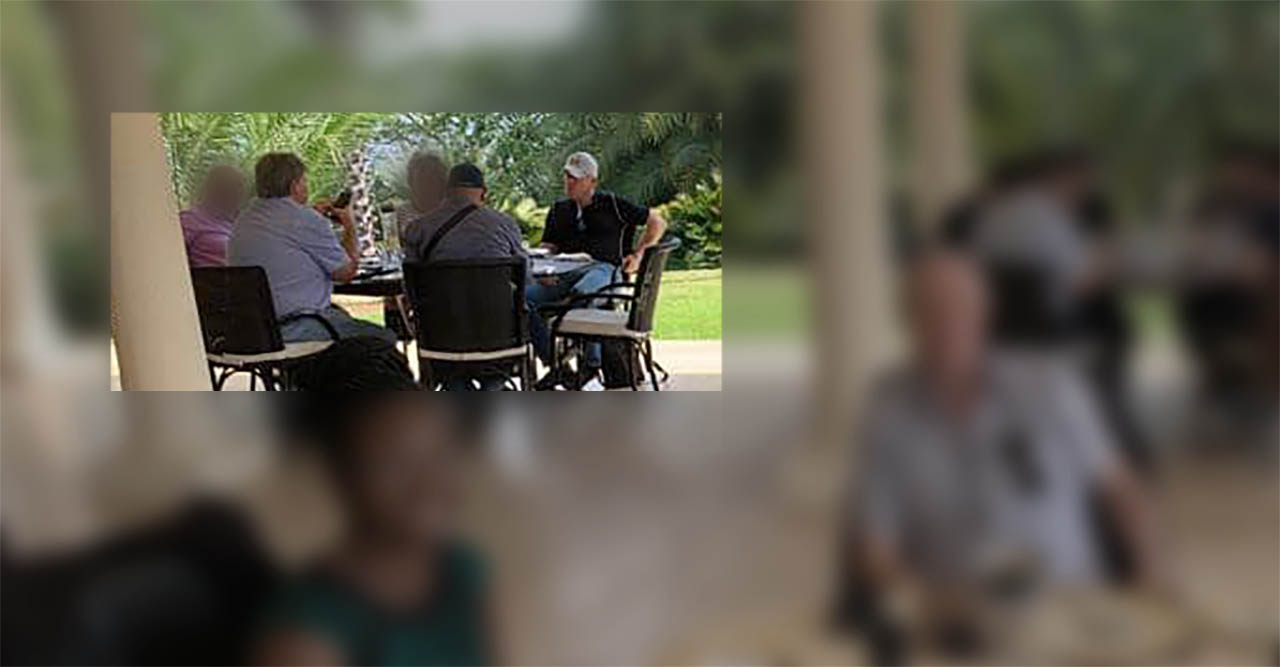 Many of the diners had ties to Crescents and Crosses, which had been working closely with Nyasa Air and was attempting to take it over, public registers, documents and social media posts show. Among those invited to the hotel were an Irish-born security consultant named John Nammock whom Kinahan identified as a security expert with connections to U.N. agencies.
Nammock first came to public attention at the age of 20 when he and 12 other mercenaries were convicted in Angola in 1976 of "plunder, blowing up of bridges, sacking, rape and 'unwarranted killing" in Angola's civil war, according to the New York Times. Four were sentenced to death. Nammock was one of two given the lightest sentences because of their "low degree of dangerousness" and age.
Attempts to reach Nammock for comment were unsuccessful.
The Dubai link
The Kinahans, it is alleged, have been getting away with murder for years.
After distributing heroin and cocaine in his native Ireland in the 1990s, Christopher Kinahan Sr. and his sons, Daniel and Christopher Jr., expanded their organization to Great Britain and mainland Europe. They have been linked to at least 20 murders in Europe, according to Europol, the European Union's police agency.
The gang set up hundreds of companies, many reputedly in the hospitality and real estate industries, to hide and move huge quantities of cash made from selling drugs. Authorities in Europe and the U.S. have compared the gang to Naples' Camorra and Japan's Yakuza.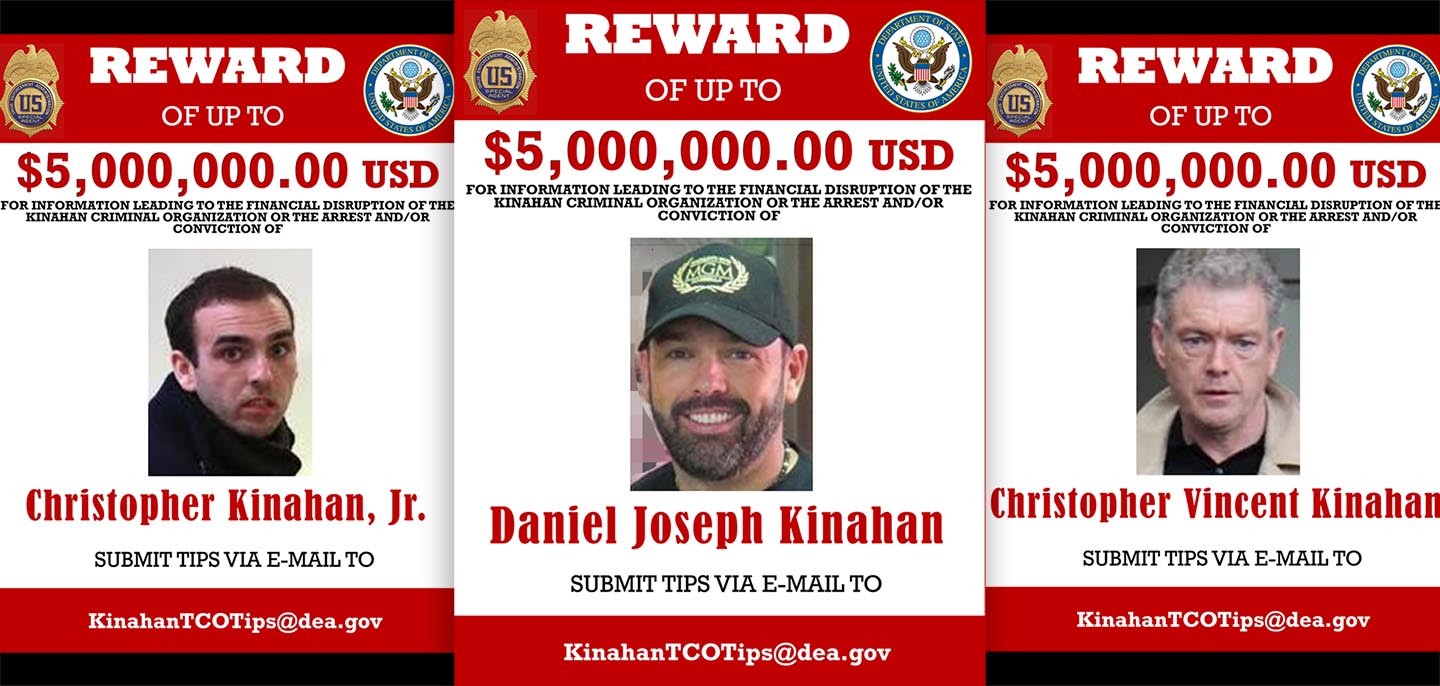 Christopher Kinahan Sr. did not respond to requests for comment.
Dubai, a tax and secrecy haven in the Middle East, was home to several Kinahan cartel companies, previous reporting by ICIJ and The Irish Times shows.
The Dubai companies were involved in boxing and nominally in the food, textiles and aviation sectors, but authorities said these businesses were most likely used for money laundering and to move drugs.
The United Arab Emirates, which includes Dubai, said it had frozen Kinahan assets this year.
Daniel and Christopher Kinahan Jr. are both named in incorporation documents for Dubai companies.
By contrast, their father's name does not appear as a founder, director or shareholder of any of the companies that he can be seen, in correspondence shared with ICIJ, to effectively control. The documents show that he disguised that control through intermediaries named on company documents.
They include his domestic partner, a Dutch-Turkish woman, Neslihan "Nessy"  Yildirim , and an influential businessman from a powerful UAE family, Samir Hussain Hamdan Habeeb Sajwani. Kinahan's relationship with Yildrim hasn't been previously reported.
Emails show Christopher Kinahan Sr. began the process of setting up  a Dubai-based aviation company in Dubai's aviation-free zone. The company, CV Aviation Consulting Services DWC  LLC (CVACS), was officially formed in 2020 by Sajwani and Yildirim.
Next to the hashtag #sistersdoingitforthemselves, Yildrim identifies herself on LinkedIn as the owner and general manager of CVACS. Text messages from the cache of documents indicate that Yildirim is also the mother of several of Chrstopher Kinahan's children. Irish police told The Irish Times that they believed that Kinahan had tried to secure a license to marry Yildrim in Zimbabwe, but that his efforts were blocked by authorities.
Sajwani was listed in a certified document as the director of CVACS, which is in Dubai South Business Park, a sprawling, "free zone," where goods can be received and kept tax-free.  He is the owner of Zahra Technology, an international security company, according to his LinkedIn page.
The cache of documents shows that even after the U.S. sanctioned Kinahan and offered a huge reward for his arrest and conviction in April of this year, Sajwani acted for CVACS. Seven days after the sanctions were imposed, Sajwani named Wood the company's chief operations officer, authorizing Kinahan's confidant  to sign and execute all documents on behalf of the company.
Sajwani declined to comment.
"We are here to make sure your dreams happen"
In 2019, Kinahan and Wood attended an aviation conference at the Red Sea resort city of Sharm El Sheikh. The gathering was hosted by the World Food Program and the now former Egyptian minister of civil aviation, Lt. Gen. Younis el-Masri, who was also the commander of Egypt's air force until 2018.
In a photo included in the leaked cache, Kinahan and Wood sport conference lanyards around their necks and have two phones each close at hand.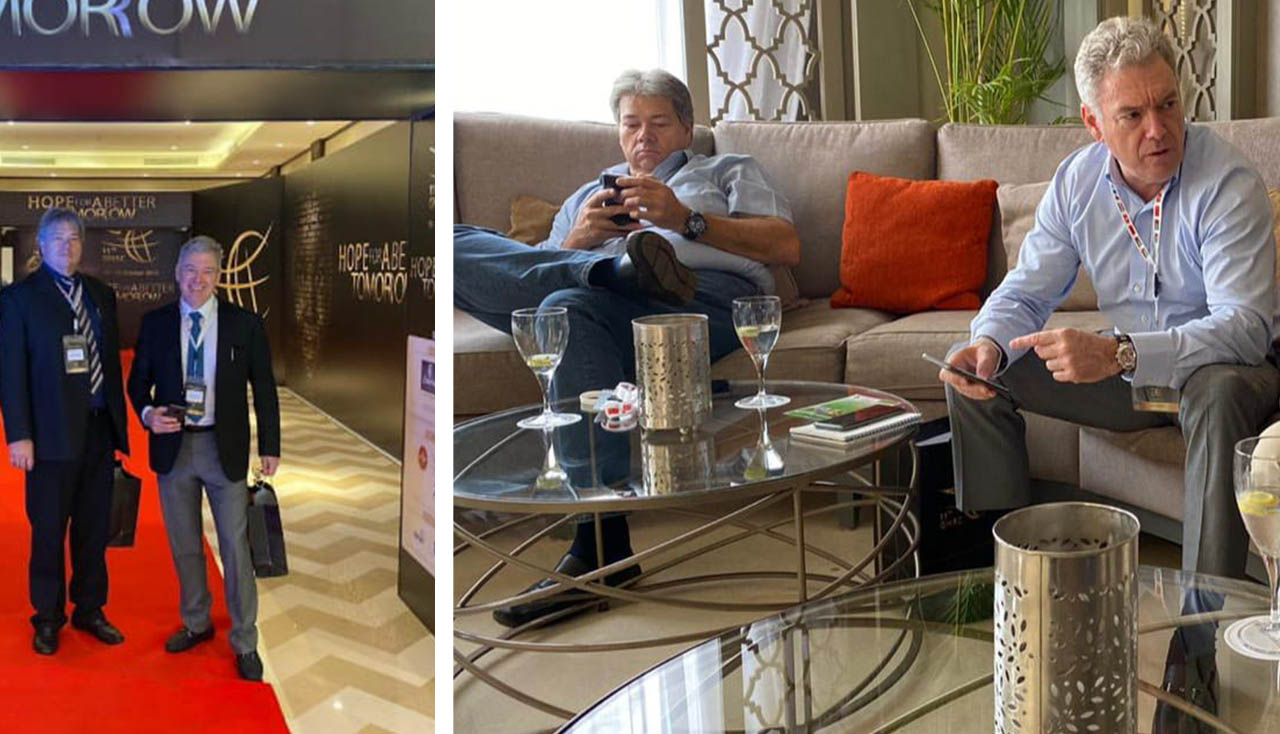 The Global Humanitarian Aviation Conference was attended by people who deliver airborne services to disaster relief programs and other charitable causes, including the International Committee of the Red Cross and Doctors Without Borders.
The World Food Program  told ICIJ that it had no record of any member of the Kinahan family being invited to the 2019 conference. The group  said that a passport holder named "Christopher Vincent Kinahan" registered as "Chris Vincent" at the event's check-in desk and identified himself as a "consultant" representing Crescents and Crosses.
"No known direct contact between WFP and Mr. Kinahan occurred before or during the [aviation conference] in 2019, nor has there been any since," the World Food Program said in a statement.
Shortly after the conference, on Jan. 8, 2020, Sea Dream Middle East General Trading, the Dubai company linked to Kinahan, made inquiries about purchasing aircraft from the Egyptian military. Sea Dream's managing director, Eldesouky, corresponded with the Egyptian defense attache in Abu Dhabi, Brigadier Hisham Nabil Monir, about buying up to nine DHC Buffalo military transport planes for as much as $8 million.
On Feb. 11, 2020, Monir sent Sea Dream a list of aircraft for sale, along with spare parts and equipment. An official document, written in Arabic and provided to PIJ and ICIJ along with screenshots of text messages, shows the Egyptian government listed as many as 30 planes for sale.
The following month, the attache sent Sea Dream technical information related to the Buffalo and gave "the Egyptian Air Force's approval" for a field inspection to take place at the Almaza Air Force base, in Cairo. In a letter in Arabic, Monir wrote that Sea Dream would be provided with lists of spare parts, including engines, after an offer for planes was received. He requested copies of the passports of Sea Dream's "technical survey team," which included Wood.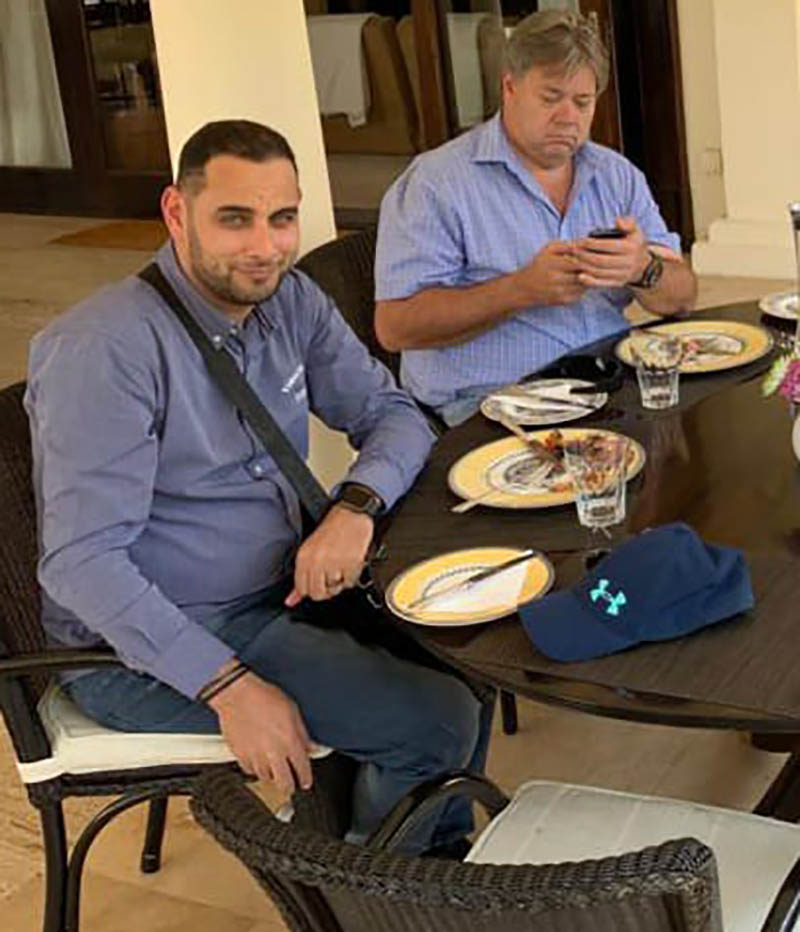 While the two sides negotiated, Eldesouky and Wood kept Kinahan — identified as "CV DXB" in text messages  — updated. By December 2020, Kinahan and his associates seemed confident that a deal for the purchase of the nine aircraft would go through, and they said they were transferring millions of dollars to cover the cost, records show.
"I will wait for the 10 million to be transferred to the company account," Eldesouky wrote.
Two visits to Egypt to see the planes and discuss the deal occurred, the first in December 2020; the second in May 2021 when the team met  with  four Egyptian air force officers. One senior officer told the visitors, "We are here to make sure your dreams happen."
The outlined deal permitted Sea Dream to bring containers to Egyptian air bases and depots to pick up the equipment being purchased. It granted permission to remove any Egyptian flags and tail numbers on the aircraft and prohibited mention of any sale to the media. According to a draft contract, the Egyptians removed the "end user certificate" attached to the deal, which certified that the proposed buyer was the final recipient of the planes and did not intend to transfer them to another.
But Eldesouky hints in another message at trouble financing the proposed deal, stating that the "90 percent" down payment is "not appropriate."
As the team negotiated the deal with the Egyptians, they tried to secure financing, documents show.
According to an account appearing under the letterhead "Christopher Vincent Business Broker," Kinahan and Eldesouky met in January 2021 with a Dubai-based lender, Alpen Asset Advisors Ltd.,  to finance the purchase of the Egyptian aircraft.
In the meeting, Eldesouky said the deal "would be in the region of $20 million," according to minutes. Eldesouky and Kinahan agreed that they could probably come up with 25 percent. But they were not sure about 50 percent, the minutes show.
An Alpen representative said she was confused by the deal and would need a lot more detailed information before proceeding any further, according to the minutes.
When the Alpen representative inquired about Christopher Vincent's connection to Eldesouky,  Kinahan identified himself as an "advisor / broker," adding that "he knew and advised the principals in the deal, those that either wished to buy or were architects of the deal".
ICIJ sought comment from Alpen.
WANT MORE STORIES THAT ROCK THE WORLD?
ICIJ is an independent, donor-supported investigative news outlet. Together, we expose wrongdoing so that the world can make it right.
Just $10 / month can change the world.
Buffalo deal fails and tensions mount
A draft sale proposal showed that the Kinahan team pondered reselling six of the Egyptian aircraft – even before finalizing the deal to buy them – to Mozambique for $30 million. According to sources, the deal ultimately fell apart because it could not be financed. The documents reveal the collapse of negotiations after 21 months and several attempts to secure finance.
Screenshots from a WhatsApp conversation in September 2021 show Kinahan notifying his team that the deal was canceled. He declared that "the buffalo deal is now officially closed." A copy of a letter that was intended to  be sent to the Egyptian Defense Ministry listed a number of technical problems in the aircraft to justify the cancellation.
The Egyptian government did not respond to questions.
Eldesouky, who runs a legal consultancy in Dubai, declined to answer questions.
The shared material, together with social media posts by Kinahan in recent years, show the crime boss making a concerted effort to build an African air network centered on Nyasa Air. But after the Egypt deal fell through, he largely lost his grip on the tiny airline, and then the entire project was dealt a knock-out blow by the U.S. sanctions which put pressure on Dubai, Kinahan's base, to freeze his assets.
James Landon, identified in official Malawi documents as the owner of Nyasa Air's assets, lives in Zimbabwe.
Emails show that Landon was named as part of the team to visit Egypt, advised Kinahan on setting up companies, arranged deals with investment companies for the resale of aircraft and weighed in on website design.
By late December 2020, gauging from one exchange, the relationship between the two was tense, with Kinahan warning Landon: "Please don't mess around with me, Jaime. I have always been open and direct." Kinahan signed off: "Slightly aggrieved and irritated."
Contributors: Conor Lally (The Irish Times), Colm Keena (The Irish Times), Kathleen Cahill, Ben Hallman, Joe Hillhouse
Golden Matonga is director of investigations at the Platform for Investigative Journalism in Malawi.
link